How it all started
Headsup was founded by two Sport Management students from Brock University, both of whom experienced concussions during their amateur sport careers. The idea was incepted after co-founder, Ryan Sutton suffered his most recent and severe concussion in 2016. Ryan alongside c0-founder Seth Mendelsohn, brainstormed ideas to spread awareness of traumatic brain injuries and to educate others on the impact they have on people's every day lives. Headsup was born from these personal experiences, and that authenticity still permeates today. Ryan and Seth's collective dream was and remains to provide a service that has community focus, and gives people suffering from concussions and symptoms an outlet to learn more about head trauma. Headsup provides a therapeutic outlet for those suffering post-concussion symptoms to share their hardships and successes, to the embrace of an experience-mutual community.
GOALS AND AMBITIONS
Headsup's main goal is to generate awareness through inclusivity and shared experiences, provide education through informative sources from our partners about head trauma, and fundraising for concussion research, with the goal of creating a holistic culture around head trauma and ensuing side effects. Donating to research is compulsory to extending the ever-growing breadth of knowledge surrounding concussions, which is why 15% of all revenues are donated to specific concussion charities and research centres. Our ambition is to give people who have or are suffering from a concussion a platform, where they can not only learn and share their stories to increase awareness and education, but aid and foster post-concussive development in others who may not be empowered to proactively seek help.
about
The Canadian Concussion Centre conducts research based out of the Krembil Neuroscience Centre, at Toronto Western Hospital. They are focused on examining the possible correlation between repeated concussions and deterioration of brain function after elapsed latency periods. This deterioration is suspected to be prevalent after repeated concussions in sport, motor vehicle accidents, and occupational-related injuries and falls.
Their Mission:
The main goal of the research team at the Canadian Concussion Centre is to examine individuals who have sustained multiple concussions from playing sports and are at greater risk of developing CTE.
The Research
The Canadian Concussion Centre is the world's first program dedicated to a four pronged approach to concussions – research, education, diagnosis and treatment. The project is based out of the Krembil Neuroscience Centre at the University Health Network's Toronto Western Hospital. It is led by internationally acclaimed concussion expert, Dr. Charles Tator. The research team includes world leaders in brain injury research, imaging, genetics, clinical care, neuropsychology, and psychiatry.
In May 2013, the Canadian Concussion Centre published their findings after studying the first ever autopsied brains of six former CFL players the in Human Neuroscience Medical Journal.
The findings revealed that three of the six players had acquired Chronic Traumatic Encephalopathy (CTE). The research team discovered that although all the players had shown signs of late neurocognitive decline, not all of them showed signs of CTE. The three players without CTE had pathological diagnoses of Alzheimer's disease, amyotrophic lateral sclerosis (ALS), and Parkinson's disease.
Components
A clinical research study involving former professional football and hockey players, and other professional athletes who undergo a neurological, neuropsychiatric and neuropsychological assessment as well as brain scans (MRIs), Magnetoencephalography's (MEG) and PET scans to help better understand the changes in the brain that may occur due to concussions

Improving diagnostic imaging techniques to diagnose the full spectrum of concussions – from acute concussion to post-concussion syndrome (PCS) to CTE – and to find ways to grade the severity of these conditions.

Researching new treatment approaches for people with PCS, especially those with multiple concussions in order to diminish cognitive and emotional symptoms, and minimize the neurological decline in CTE.

Searching for biomarkers including blood tests that may be used to diagnose a concussion as well as identifying any susceptibility to concussion within families through genetics.

Providing research findings and recommendations to sports organizations, employers and health care professionals so the best care can be provided during return to sports, school or work. Strive to ensure that all sports can be enjoyed by athletes of all ages and abilities with minimal risk of further concussions. We want young people to keep playing collision sports, but we want these sports to be as safe as possible. We also want school and work environments to be as safe as possible and return to school or work to occur on a graduated basis with any necessary accommodations being provided.

Providing best practices to those who are returning to school or work so that normal lifestyle can be restored as quickly as possible after a concussion or during the management of PCS for those who do not recover fully within a month of sustaining a concussion.
Headsup Apparel & Team Apparel
Majority of our donations are generated through the selling of Headsup Apparel. With every item sold we donate %15 directly to concussion research. Buying our apparel is a responsible purchase that is both charitable and fashionable. Our apparel is designed with a purpose; keep it plain, stylish and impactful. We are HeadsUp and we are challenging the stigma!
Headsup also offers a customizable option for team apparel or apparel for events. If you and your peers want to help spread concussion awareness on a larger scale go to the Contact Us page and email us about a Team Order.
Headsup wants to hear about your experience with concussions! Regardless of concussion grade we want to hear about your story and how you dealt with managing your traumatic experiences. These testimonials are catalytic to achieving the holistic culture envisioned by our team, as shared experiences empower others facing adverse scenarios in their recovery. Concussions do not define us, but they are certainly part of who we are. Want to share your story? Please select the Contact Us page and provide a synopsis of your story! We encourage you to join the HeadsUp team today and help spread awareness!
The ultimate concussion platform
At Headsup we want to unite people who have suffered concussions and who may seem alienated throughout their recovery. Our goal is to give people who's lives have been affected by concussions a voice and community to belong, with the hope of empowering others to exponentially grow our community; one founded on factual evidence, support and holistic approaches to healing and personal development. Through awareness, education, and concurrent research we will help bridge the gap between those suffering and those not understanding what it implicatively means to be concussed.
Ellie Black, Canadian Olympic Medalist in Gymnastics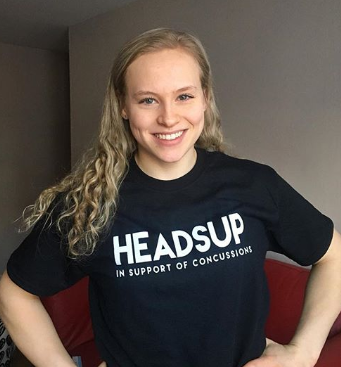 Andrew Coe, Rugby Canada
Tony Hart, Firefighter
Harry Lutomba Mpongo, Rugby Ontario
Dan O'Toole, Sports Broadcaster TSN